Field Museum of Natural History (Phase 1)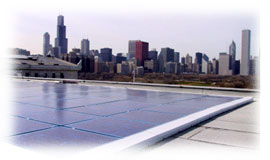 ADDRESS
Field Museum of Natural History (Phase 1)
1400 S. Lake Shore Dr
Chicago, IL 60605-2496
SIZE
49.0 Direct-Current Kilowatts; 41.1 Alternating-Current Kilowatts
DATA SYSTEM
Spire/Stonewater
TILT/DEGREE
0 Degrees
BRAND
MSX-120 (120 watts each)
TELEPHONE
312-922-9410
CONTACTS
PARTNERS
Chicago Solar Partnership
ABOUT
One of the world's great museums of culture and the natural sciences, The Field Museum is changing the role of museums from storing the earth's treasures to actively exploring and preserving them.
The Museum is an unforgettable experience for visitors of all ages, with more than 35 world-renowned permanent exhibitions and an exciting schedule of temporary exhibitions. All year round, visitors can meet Sue, the world's largest and most famous T. rex, unravel the mysteries of 23 mummies in Inside Ancient Egypt, and see life through the eyes of a bug in Underground Adventure. Each year, the Museum's extraordinary exhibitions and programs educate, entertain and inspire nearly 2 million visitors, including more than 350,000 school children.
Named for its founding donor, department-store magnate Marshall Field I, the Museum first opened its doors in 1894. Today it presides proudly over Chicago's lakefront Museum Campus, its majestic halls and acres of exhibitions welcoming visitors from around the world.