Audubon Elementary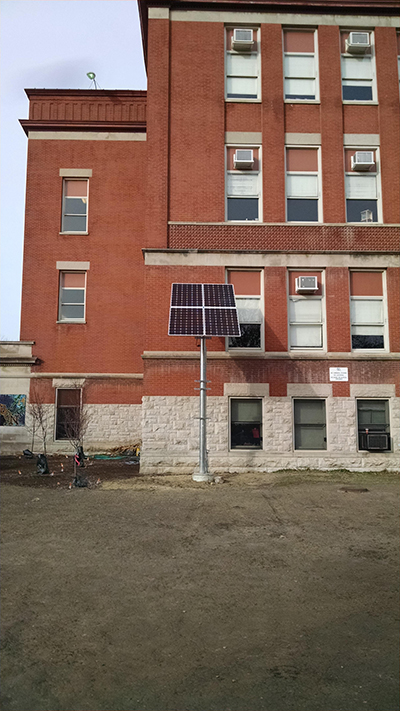 ADDRESS
Audubon Elementary
3500 North Hoyne Avenue
Chicago, Illinois 60618
SIZE
1080 watts (1.1 kW)
DATA SYSTEM
Enphase Enlighten
NUMBER OF STUDENTS
570
TILT/DEGREE
20 Degree Tilt
BRAND
4 Solarworld Solar panels 270 watts each
TELEPHONE
773-534-5470
CONTACTS
PARTNERS
Illinois Clean Energy Community Foundation, NEED, the IBEW and the Foundation for Environmental Education.
ABOUT
Audubon Elementary School, located at 3500 N. Hoyne Avenue in Chicago, was built in 1893. The school was named for John Audubon, a famous ornithologist (bird scientist). The school serves 458 children in pre-kindergarten through 8th grade. The faculty consists of 29 teachers.
Audubon is a Math and Science Magnet Cluster School that has full time math and science lab teachers. The School operates from September through June on the schedule of the Chicago Public Schools and teaches the curriculum required by the State of Illinois and the Chicago Board of Education.
Audubon School teachers have always deeply believed that all children are capable of high Achievement. The schools involvement of parents and community plus its academic excellence has made it a respected institution that has been so acknowledged by generations. The present staff, faculty, students and parents are working together so that our dedication to students and community continues into the future.