John Hay Elementary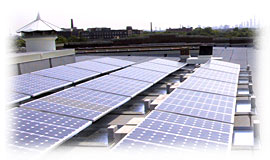 ADDRESS
John Hay Elementary
1018 N. Laramie
Chicago, IL 60651
SIZE
10.8 Direct-Current kilowatts; 9.1 Alternating Current kilowatts
DATA SYSTEM
Spire/Stonewater
NUMBER OF STUDENTS
723
TILT/DEGREE
10 degrees
BRAND
BP 275
TELEPHONE
773-534-6000
CONTACTS
Georgia Lewis
PARTNERS
Chicago Solar Partnership
ABOUT
Hay Academy is named for John Hay an American author and statesman. Born in Indiana in 1838, Hay began his career practicing law in Springfield, Illinois. Hay met Abraham Lincoln there and was the Presidentís assistant private secretary in Washington, DC from 1861 to 1865. He went on to write Pike County Ballads and Abraham Lincoln: A History, and served as Secretary of State under Presidents McKinley and Theodore Roosevelt from 1898 until his death in 1905.
The school, built in 1921, teaches students in pre-kindergarten through 5th grade. There are 40 teachers and 10 teaching assistants at the school of 730 students. Hay is a fine arts community academy that offers programs in drama, dance, visual arts band, choir, and general music.
The 10.8 kW PV power system at the Hay Academy employs 144 BP Solar model BP275 PV modules that are UL listed under file (E186374). A data acquisition system monitors AC power output from the array that will be used in Chicago Public School curriculum.