Brentano Elementary Math and Science Academy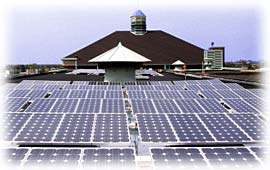 ADDRESS
Brentano Elementary Math and Science Academy
2723 N Fairfield Ave
Chicago, IL 60647
SIZE
10.8 direct-current kilowatts; 9.6 Alternating Current kilowatts
DATA SYSTEM
Spire/Stonewater
NUMBER OF STUDENTS
546
TILT/DEGREE
10 Degrees South
BRAND
BP 275
TELEPHONE
773-534-4100
CONTACTS
PARTNERS
Chicago Solar Partnership
ABOUT
The Lorenz Brentano School photovoltaic (PV) power system was installed on the roof of the building completed in 1893 and located at 2723 North Fairfield, Chicago, Illinois 60647. The school was named in honor of Lorenz Brentano, a German political refugee who became President of the Chicago Board of Education and a United States Congressman.
Brentano is a Math and Science Cluster Academy in Region 2. The school has 70 full-time employees, of whom 52 are faculty. The student population of 951 spans from kindergarten through eighth grade.
The building has about 119,000 square feet of inhabited space and is occupied on school days from 6AM to 8PM by staff, 9:00 AM to 2:30 PM by students, plus after school programs. Technically, the school is on nine-month schedule, however, over the past few years, summer classes have had up to 350 students.