Pershing Magnet West School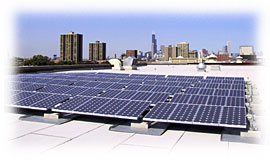 ADDRESS
Pershing Magnet West School
3200 S. Calumet Ave
Chicago, IL 60616
SIZE
10.8 Direct-Current kilowatts; 9.1 Alternating Current kilowatts
DATA SYSTEM
Spire/Stonewater
NUMBER OF STUDENTS
393
TILT/DEGREE
Zero degrees
BRAND
Spire Solar SS75
TELEPHONE
773-534-9240
CONTACTS
PARTNERS
Chicago Solar Partnership
ABOUT
The Pershing Magnet West School, located at 3200 South Calumet Avenue, Chicago IL 60616, was built in 1900, with additions constructed in 1924 and 1940. The School was originally named in honor of Stephen Arnold Douglas, who lived from 1813 to 1861 and was one of the great orators of his day. Douglas, a Democrat, debated Abraham Lincoln in the famed Lincoln-Douglas debates of 1858 during their contest for the United States Senate. Douglas served as U. S. Senator from Illinois until his death. Later the school name was changed to the Pershing Magnet West School in honor of General John J. Pershing.
Pershing Magnet West is a Math and Science Cluster Academy in Region 4 of the Chicago Public Schools. Approximately 620 students are enrolled in pre-kindergarten through eighth grade at Douglas. One hundred percent of the students are African American, 90% come from low-income families and the attendance rate is over 90%.
The building has about 400,000 square feet and is occupied on school days from 9:20 a.m. until 5:30 p.m. The school is fully operational from September through May, and about 300 students attend Douglas during the summer months.
The photovoltaic (PV) power system will be located on the Southern end of the building constructed in 1940. The 144 modules are Spire Solar Chicago Model SS75 photovoltaic (PV) modules.