Adlai E Stevenson High School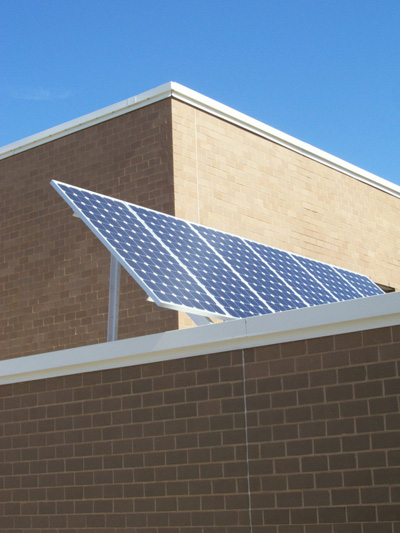 ADDRESS
Adlai E Stevenson High School
2 Stevenson Drive
Lincolnshire, IL 60069
SIZE
1 kW (1,020 watts)
DATA SYSTEM
Solrenview
NUMBER OF STUDENTS
4,399
TILT/DEGREE
35 degrees
BRAND
6 SunTech PV panels rated at 170 watts each
TELEPHONE
847-415-4000
CONTACTS
PARTNERS
Illinois Clean Energy Community Foundation, Commonwealth Edison, NEED, and Foundation for Environmental Education.
ABOUT
Science club members initiated grant writing as one of their projects in the fall of 2007. After they finished the rough draft for the Illinois Clean Energy Community Foundation, it was edited, and submitted in the spring. The original installation date was moved back a few times in order to get specifications for the pads from the roof contractor which would not void the roof warranty. The actual installation occurred in December of 2008. The inverter is mounted inside the AP Environmental Science classroom. The panels are easily seen from a main hall on the third floor. Many different classes are referring to the photo voltaic installation in their courses.
We are using the panels this year in a IJAS Science Fair research project to investigate if the output of the panels can be increased with additional reflected light.