E. Franklin Frazier Elementary School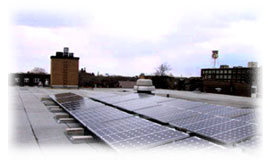 ADDRESS
E. Franklin Frazier Elementary School
4027 W. Grenshaw
Chicago, IL 60624
SIZE
10.8 direct-current kilowatts; 9.1 alternating-current kilowatts
DATA SYSTEM
Spire/Stonewater
NUMBER OF STUDENTS
712
TILT/DEGREE
10 degrees
BRAND
BP 275
TELEPHONE
773-534-6880
CONTACTS
PARTNERS
Chicago Solar Partnership
ABOUT
The Frazier School located at 4027 West Grenshaw, Chicago Illinois is the second Chicago Public School to be solar-powered. The school was built in 1967, and named in honor of E. Franklin Frazier, and African American Sociologist, famous for theories on poverty.
Frazier is a Math And Science Cluster Academy in Region 3. The School has 61 full time employees, of whom 38 are faculty. The student population is 612 spanning from kindergarten through eighth grade. The demographics are mostly African American at over 99%. Over 90% of the student population are from low-income families and the mobility rate is approximately 22%. Despite these challenges, Frazier School has and attendance rate of 93.3%.
The building has about 60,000 square feet of inhabited space and is occupied on school days form 6:00 AM to 4:00 PM by staff, 9:00 AM to 2:30 PM by students. Technically the school is on a nine month schedule, however, over the past few years, summer classes have had up to 300 students.